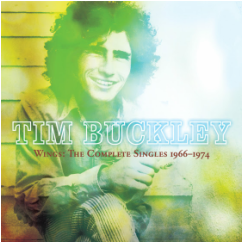 TIM BUCKLEY'S WINGS: THE COMPLETE SINGLES 1966-1974
CONTAINS A & B SIDE OF EVERY U.S. AND U.K. SINGLE,
INCLUDING ONE THAT WAS NEVER ISSUED
21-song compilation, due out November 18th on Omnivore Recordings, contains recordings produced by legendary
Jac Holzman, Paul Rothchild, Bruce Botnick, and Jerry Yester.

LOS ANGELES, Calif. (Press Release) – From folk, to rock, to psychedelia, to jazz, to soul, singer-songwriter Tim Buckley continued to evolve and explore — pushing boundaries at every turn. Through the course of his career, ten singles were issued from his nine albums, and they are collected for the very first time on Wings: The Complete Singles 1966–1974. Street date is November 18, 2016.
​
Each producer — Paul A. Rothchild, Jac Holzman, Jerry Yester, and Jerry Goldstein — brought the right feel to Buckley's progressing musical persona. With material running chronologically from his self-titled debut from 1966 through 1974's Look at the Fool, the Wings compilation traces his development as an artist and writer. Of special note is the unissued 1967 single "Once Upon a Time" b/w "Lady, Give Me Your Key" with the latter making its first appearance anywhere!