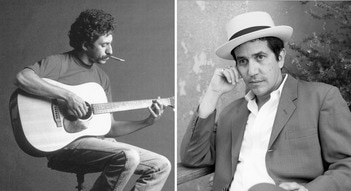 NASHVILLE, Tenn. (Press Release)-- A.J. Croce has always traveled on his own musical road. For more than twenty years, the creative pop iconoclast has tapped a variety of Americana sounds in crafting his music. Croce's nine albums have appeared on Top 40, AAA, Americana, College, and Jazz charts and when his breakout sophomore CD That's Me in the Bar was reissued recently, it wound up charting in two separate decades.

Always interested in exploring new musical territory, the Nashville-based singer/songwriter has created a very special concert experience that celebrates both his own music and that of his father, the late troubadour Jim Croce. Entitled "Croce: Two Generations of American Music," the evening finds A.J. Croce performing his songs, his father's tunes and music that influenced both of them.

A.J. was only two years old when Jim Croce died in a tragic airplane crash in 1973, so he didn't know his father's music firsthand. Instead, "I came to love it in the same way everyone else did," he explained, "by listening to the albums." While he describes his father's music as "part of me, part of my life," A.J. never really performed those songs live. As a piano player, his interests tended to favor the blues and jazz-rooted music of musicians like Ray Charles and Allen Toussaint. ​
A few years ago, however, A.J. was digitalizing some of his father's old tapes and came across a cassette filled with covers of old blues and folk tunes by the likes of Fats Waller, Bessie Smith and Pink Anderson. It was a revelation to him. "He was playing stuff I played myself," A.J. revealed, adding that "stuff made sense" discovering that his father and he had "all the music common."

As he started to learn his father's tunes, A.J. had to do it "the old fashion way, by listening to the recordings" because there were no chord books of Jim Croce music. A.J., who was developing his own guitar playing prowess, was particularly impressed with the complexities of his father's compositions, especially in interplay between Croce and his longtime collaborator, lead guitarist Maury Muehleisen, who died with Croce in that fatal plane crash.

To commemorate what would have been Jim Croce's 70th birthday several years ago, A.J. performed a concert of his father's tunes for the first time. Making it a family affair, the show was held Croce's, a San Diego club owned by Ingrid Croce (A.J.'s mom and Jim's widow). The San Diego Union Tribune's George Varga described A.J.'s performance as a "touching tribute" [that was] all the more touching coming from the son who has grown to become every bit his dad's artistic equal."

The evening set the stage for A.J. Croce's current "Two Generation" concert, which presents a selection of his own tunes alongside his father's songs, and including the vintage folk, blues, R&B and early rock 'n' roll numbers that inspired the two Croces. Sam Cooke, for example, will be one of the artists A.J. covers since his dad frequently did a Cooke tune in his set. A.J. also describes where the songs came from and the connections to the Croces' music. Not a tribute show, the evening is an entertaining look at how the two men's songs relate to each other and to the American music that inspired them.

Jim Croce found long-overdue success in 1972 following years of struggling to make a name in the music business. That year he released two albums, You Don't Mess Around With Jim and Life and Times, that spawned the hit singles "You Don't Mess Around With Jim," "Operator (That's Not the Way It Feels)," "Time in a Bottle" and "Bad, Bad Leroy Brown" (the latter two tunes both reached Number #1). His final studio effort, I've Got a Name, was released in December of 1973, less than three months after his death. Three more hits ("Workin' at the Car Wash Blues," "I'll Have to Say I Love You in a Song" and the title song) came from that album, which reached #2 in the album charts. A.J. pointed out that these three classic albums amazingly were recorded in just a one-and-a-half-year time period. Jim Croce, who was just thirty when he died, has had his folk-rock music remain popular over the years. His record sales have surpassed the 45 million mark, and his songs have appeared on over 375 compilations.

A.J. will be keeping himself busy this year with more than just the "Two Generations" concerts. He also is hard at work on his next album, which he describes as a "soul-inspired" record. A.J. is collaborating with the legendary producer/songsmith Dan Penn on the release, which will feature contributions from the great Muscle Shoals bassist David Hood, blues guitar master Colin Linden and the renowned gospel singers the McCrary Sisters. This project marks the follow up to A.J.'s last album, the critically acclaimed Twelve Tales, which was released on Nashville-based Compass Records. On that 2014 release, A.J. partnered up with six celebrated producers (Jack Clement, Allen Toussaint, Tony Berg, Mitchell Froom, Greg Cohen and Kevin Killen) who each helmed two tunes. Steve Leggett, in All Music Guide, proclaimed it a "special achievement," while Blurt's Lee Zimmerman hailed it as "a pop-perfect album … [that's] a contender as the breakout bonanza of the year."

For these special "Two Generations" performances, A.J. will be backed his longtime guitarist Michael Bizar along with Dr. John alum David Barard on bass and either Nashville-based session ace Tony Morra or Gary Mallaber (Van Morrison, Steve Miller) sitting in on drums. With these concerts, A.J. wants to create an experience that "makes the audience and me happy."

He believes it will do the same for audiences coast to coast.
​
Two Generations Tour
Thurs., Jan. 12 FAYETTEVILLE, AR Walton Arts Center
Sat., Jan 14 FRANKLIN, TN Franklin Theater
Sat., April 29 MOUNTAIN VIEW, AR Ozark Folk Center
Sun., May 21 ST. CHARLES, IL Arcada Theater
Wed., July 12 LAKESIDE, OH Hoover Auditorium
Fri., Oct. 13 BARABOO, WI Al Ringling Theatre
Sat., Oct. 14 WAUTOMA, WI McComb Bruchs Performing Arts Center
Fri., Nov. 3 BILLINGS, MT Alberta Bair Theater
Sat., Nov. 4 BOZEMAN, MT The Ellen Theater
Fri., Nov. 17 GREEN VALLEY, AZ Green Valley Recreation West Center
Sat., March 10, 2018 ROSCOMMON, MI Kirtland Center for the Performing Arts ​