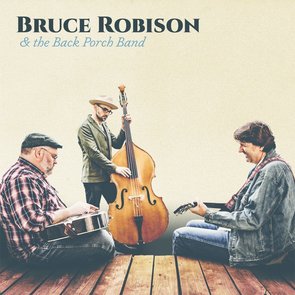 Nashville, TN (March 20th, Press Release)
When the music drives, it is no surprise you take the long road.
A meaningful, musical voice in Americana and Country music,
Bruce Robison
has taken his time releasing
Bruce Robison & the Back Porch Band
.
Available on
April 28
, the album marks his first solo project since 2008 (
The New World
).
Robison has been making music professionally for decades, including No. 1 hits for Dixie Chicks, Tim McGraw and Faith Hill, and George Strait, but he has never lost his genuine enthusiasm for music – writing it, recording it, playing it, sharing it. He literally can't keep it to himself, and you feel that urgency of discovery and passion on every cut of this new album. Robison has also poured that passion into his new project,
The Next Waltz
, a blossoming community of artists, fans and friends gathering both virtually and at his recording studio in Lockhart, just outside of Austin.
With impeccable musical taste and ability, Robison is a trusted North Star for anyone searching for music that is rooted in rich traditions and untethered creativity.
"Writing is where it all starts for me," he explains. "Whether it's my writing, or songs I want to do with somebody else. I love the mechanics of it; how simple it can be."

Keeping it simple was the guiding principle behind the album, which is a collection of Robison originals, co-writes, and covers that capture country's most beloved stylistic elements: good-time, lighthearted romps ("Rock and Roll Honky Tonk Ramblin' Man;" "Paid My Dues") and wistful, sometimes bittersweet ballads ("Long Time Coming;" "Still Doin' Time"). But even the Who's "Squeezebox" — which Robison calls "a great country song by some English dudes" — shows up, in a lively version dressed with Cajun fiddle by Warren Hood and acoustic guitar and harmonies by Robison's wife, Kelly Willis.

Robison's last two albums were with Willis (Cheaters Game and Our Year) and while they are currently creating separately, Robison found the perfect love song to record for this album (he says he's incapable of writing one of his own): Damon Bramblett's "The Years," a sweet, slow waltz with harmony from Willis.

​The album reflects other influences as well: Christie Hayes' "Lake of Fire" displays his love of the '70s West Coast sound embodied by Jackson Browne and Linda Ronstadt.

"I'm always collecting songs," he says. "That's what The Next Waltz is about, too; I'm just a fan of songs, and I love the way they come alive in the hands of the right artist."

The Next Waltz is a musical salon where you can find Jerry Jeff Walker's ruminations on writing "Mr. Bojangles," an exclusive recording of Randy Rogers singing Merle Haggard's "Misery and Gin," the Turnpike Troubadours performing "Come As You Are," or Rodney Crowell telling Robison and Willis about how he came to own one of John Lennon's suits.

Robison has created a place where songs are re-imagined, with reinvigorated covers and crafted new works. Meanwhile, he's cultivating a house band he hopes might one day be as revered as Stax Records' Booker T. & the M.G.'s or Muscle Shoals' Swampers. The Back Porch Band does it old-school, all analog, cutting songs together in one paneled room where "happy accidents and all kinds of things that just feel real," including sound bleed, are allowed to occur.

Next Waltz sessions are documented on video, along with interviews in which Robison, speaking artist-to-artist, often draws out stories journalists don't. The content is designed to let fans peek behind the curtain to witness the creative process, not only providing unique insights, but tightening their connection to the proverbial unbroken circle of country music.

That influence extends far beyond songwriting; Robison's ultimate dream for The Next Waltz is to follow in the late Guy and Susanna Clark's footsteps by providing a safe, welcoming place for artists, a haven where musicians can socialize, inspire one another artistically and find a creative, emotional and spiritual nourishment.

The windows are rolled down; fresh air pours in: "It's all about performing the song and seeing where it takes us," says Robison, "and having great players in a real collaborative atmosphere."