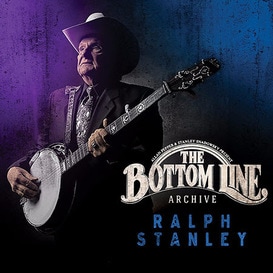 NASHVILLE, Tenn. (March 16, 2017 Press Release)
– With the release of the film
O Brother, Where Art Thou?
, Ralph Stanley cemented his place as an American music legend. His iconic voice became the voice of the mountains, and the last fifteen years of his life and career proved to be a celebration of this, with Grammy Awards, all-star collaborations, and induction into the Grand Ole Opry. In a unique piece of musical history, the legacy of Ralph Stanley can be witnessed for posterity's sake with the release of
Ralph Stanley: Live At The Bottom Line
, available now at all physical and digital retailers. The release is distributed exclusively by BFD through RED distribution.
The live set, recorded at the legendary New York City nightspot on June 12, 2002, features many of Stanley's signature songs, including "Man of Constant Sorrow," "Pretty Polly," and "O Death," which opens the set. For such a prestigious performance, Stanley carried nothing but the best line-up of musicians with him, with Stuart Duncan (violin), Mike Compton (mandolin), James Shelton (guitar), Dennis Crouch (bass) all lending their award-winning talents to the night's performance.
The evening marked the only time that Stanley played the venue, but the singer was one of many Country / Bluegrass to showcase their talents at the Big Apple hotspot, with others including Dolly Parton, Waylon Jennings, Doc Watson, and Emmylou Harris.

The album's executive producers are Allan Pepper & Stanley Snadowsky, and Bob Frank. Pepper, who was co-founder of The Bottom Line with Snadowsky, remains mindful of the impact a performance there had on the musical world.

"You could get the New York Times, and Rolling Stone, and The Daily News, and The New York Post, all covering your gig," he states. "And the record companies would get celebrities to come to the shows, so suddenly you see Andy Warhol coming to see Dolly Parton, and there's a picture and a big story about that. There was a buzz factor that played heavily into building this scene nationally. An artist could be on a morning or an evening news show, and could even do a live radio broadcast. In that way, New York was pretty big for the country music scene. Plus at our place, you could sit, and it was comfortable and intimate, and that was very important for getting the fans and press to come out. It was all part of the star-making machinery."

Ralph Stanley: Live At The Bottom Line is the first album released featuring the International Bluegrass Music Hall of Honor inductee since his passing in June 2016.

Live At The Bottom Line Track Listing:
01. O Death (2:20)
02. Band Introductions (1:17)
03. Girl from the Greenbriar Shore (3:36)
04. False-Hearted (5:11)
05. Henry Lee (4:38)
06. I'll Remember You Love, In My Prayers (1:59)
07. Lift Him Up (5:16)
08. Wild Bill Jones (2:26)
09. Hemlocks & Primroses (3:26)
10. Look On and Cry (3:53)
11. Calling You (3:56)
12. Pretty Polly (4:10)
13. Great High Mountain (4:43)
14. Man of Constant Sorrow (4:24)
15. Amazing Grace (4:15)