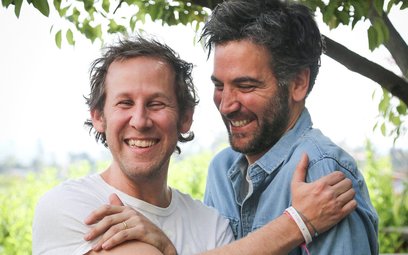 People who think it's weird that Josh Radnor has started a band have just not been paying attention. He's posted a song of the day on his twitter feed for years and talked about music extensively in his Museletter (which you can sign up for here
http://joshradnor.instapage.com
).
And of course, Ben Lee has been around forever, beginning his career as a young teenager in the early '90s as the vocalist for Australian lo-fi punk band Noise Addict, who performed with Sonic Youth, Pavement, Fugazi & more, and was signed the Beastie Boys' Grand Royal label. In his almost 25-year career, Lee has worked artists such as with Zooey Deschanel, Mandy Moore, Ben Folds, Ben Kweller, Neil Finn, Azure Ray & countless others.
With his last full-length, 2016's
Freedom, Love & the Recuperation of the Human Mind,
and his recent children's record, 2017's
Ben Lee Sings Songs about Islam for the Whole Family
, Lee has shown a penchant for crafting quirky, catchy songs that tackle life's biggest questions. With Radnor & Lee, he and his simpatico collaborator further explore faith and spirituality.
While the content of the music may be getting a few raised eyebrows, it's the sound of the songs that is winning people over.
So, we asked them to put together a playlist of music that has inspired them over the years - Check it out below and be sure to visit them on
Facebook,
Twitter,
and
Instagram
.
Radnor & Lee
will be at
The Hotel Cafe
1623 Cahuenga Blvd. in LA on
May 23rd
Doors 630pm

Zeke Duhon 7pm
Laura Jean Anderson 8pm
Radnor & Lee
9pm

Purchase tickets
HERE