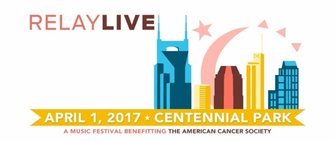 (Press Release) Silverado Records, an independent country music label and growing force in Music City, will feature artists in American Cancer Society's RelayLIVE festival. Alongside Silverado's Signature Songwriters Series featuring label artist Zack Dyer, artists from their roster such as Ali Morgan,Mandy McMillan and David Adam Byrnes will represent the groundbreaking label by taking the stage in support of American Cancer Society.
The Silverado Records Signature Songwriter's Round is designed to highlight the "immense and diverse songwriting culture prevalent in Nashville and country music as a whole." Silverado's Zack Dyer will be accompanied by Tony Winkler and Tyler Jordan to showcase their story-telling skills in representation of the vast talent of Nashville's songwriting community.
As part of this community fundraising event, featured artists of Silverado Records will deliver powerful performances in various time slots during the festival. Other acts include Nashville favorite, Arts Fishing Club. Full details for the event are below:
Event: American Cancer Society's RelayLIVE
Date: Saturday, April 1st
Time: 2:00 p.m. – 8:00 p.m.
Venue: Centennial Park
Address: 2500 West End Ave, Nashville, TN 37203
Admission: $10 General Admission
Tickets:
Click to order tickets here.