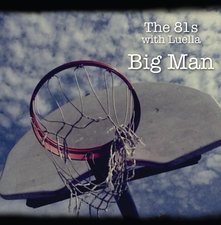 ​A few years ago, lyricist Tom Siering approached Nashville stalwart Tim Carroll about putting some of his words to music. The resulting side project was
The 81s.
After recording and releasing their first record,
Just One Word: Fin Del Mundo,
they decided to keep the partnership going. For their second effort, Tom had a vision of a garage rock record resembling The Velvet Underground and Nico and suggested bringing in Tim's girlfriend, Nashville songstress, Luella.
Big Man
is a rock album full of grit and angst that showcases not only the powerful lyrics of Siering, but the contrasting vocals of Carroll and Luella along with the precision of the rhythm section of Cameron Carrus (bass) and Marco Giovino (drums). All of which are held together by the immaculate guitar playing of Tim Carroll. The subject matter covers doomed relationships, the current political landscape, navigating the music business, and even highlights the plight of so many of the 7 footers in the NBA over the years.
Despite being a side project for Carroll, Luella and company,
Big Man
is a cohesive album with the heart and soul that makes rock n' roll a timeless art form. The tracks of the record will play perfectly alongside any Americana, Rock, Blues or Roots playlist.
Website:
www.The81s.com
Facebook :
www.The81s.com
Itunes
Amazon