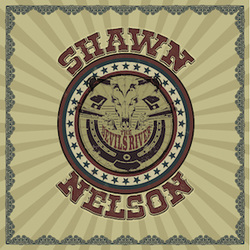 After the release of five independent albums Shawn Nelson marked the release of his 6th, The Devil's River, this past February. Nelson wrote all of the tracks except the somber waltz "Diamonds Don't Shine In The Dark," which was written by Fletcher Murchison and "The Devils River" which was co-written with Will Dupuy. The fan favorite title track kicks things off and melodically gets you ready to roll through an album that takes you on a journey in Texas and beyond. Overall, the album has a definite classic country feel with honest and relatable lyrics that touch upon life, love and other musings. Songs like the bluegrass fueled "My Old Time Gal" (which features fiddler Noah Jeffries of Milkdrive) and "Tighten Up" will have you picturing yourself two stepping on a wooden dance floor in a honky tonk. That same feeling permeates "P & L Midway" and the Mexican flavored "Medina" a story about those that left home for Houston in search of wealth, seeing the "dollar signs in the sky."

An old time toe tapping southern gospel feel, with some mighty fine guitar work, appropriately accompanies "Deliver Me" about being laid down to rest and reaching the other side while "One Foot In the Grave" and "Honky Tonk Life" take the record to a slower, emotional pace. The latter reflects on remaining in a relationship while still living the honky tonk life while the former talks about living, and embracing, life before your time comes.

The album ends on romantic notes with both "Your Man" about balancing relationships and personal shortcomings (which is felt not only lyrically, but sonically as well) and "Barton Springs" about the journey he has taken with his wife. "It's been a rough and rocky travelin'/A little hard on us/But we are built on love and trust…..When it comes to you and me there ain't nothin' I would change/I loved you from the moment/That we met at Barton Springs."

Combining elements of Americana, Country, Rock, Bluegrass and more, Nelson ends up with a very palatable stew. If you are new to his music, start here….you'll find yourself going back for more.