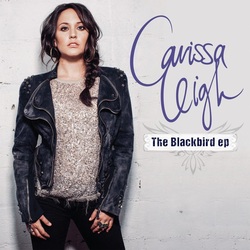 Carissa Leigh will release her brand new EP titled
The Blackbird EP
today, Monday April 28th. The four track debut, which includes her current single "Bad Boy," was produced by Tone Def (Green Day, Santana). Carissa co-wrote all of the songs along with several well known songwriters, including Brian White (Rascal Flatts) and Clay Mills (Darius Rucker).
The tracks range from fun rockin' songs, like "Bad Boy," to emotional ballads. It is on these where Carissa's vocals really shine, especially "Not The Same Girl" which is about finding the strength to not take back the person who continually hurts you. This time, instead of breaking apart after the hurt, she's become stronger.
"Baby I'm not the same girl who would let you off so easy, just let you back into my world, believing anything you tell me."
Discovering, from a friend of a friend, that her husband is cheating is the story behind the sad "Cant Come Back From That." In many relationships, there is that line that gets crossed where a person cannot simply apologize and expect everything to be okay.
"How you went too far and you lost my heart, you can't come back from that."
You'll believe every word she sings in this one.
Overall, "Man Enough" has a shadowy atmosphere, where the melody sets the scene for the story the lyrics tell. It is a mid tempo song in which she gives a potential suitor a "shot of the truth" telling him that she knows the games guys play and she's too smart to fall for them.
"'Cause I've been around the block a time or two and I ain't got the time for guys like you."
4 Stars
The EP is available at digital retailers.
For more information on Carissa Leigh, visit her
official website.