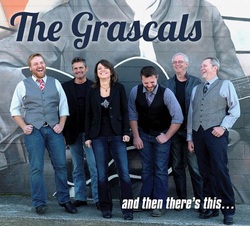 One of the most beloved and groundbreaking bands in Bluegrass, The Grascals, will be releasing their new album and then there's this… via Mountain Home Music Company on January 8, 2016. Since their last album, 2013's When I Get My Pay, The Grascals - Terry Smith (bass), Danny Roberts (mandolin), Kristin Scott Benson (banjo), Terry Eldredge (vocals), and Adam Haynes (fiddle) - have been joined by John Bryan who shares lead vocals, plays guitar and seemlessly blends with the group.

This new collection contains songs from well-known Bluegrass writers such as Harley Allen and Billy Smith ("True Hearts"), Larry Cordle and Carl Jackson ("Delta Queen") and Shawn Camp, Brice Long and Byron Hill ("A Place To Hang My Heart"). and then there's this... begins with the dynamic "I Know Better" which is balanced by the subdued "Road of Life," a song that is a perfect reminder as we settle into the new year to "Buckle up and hold on tight/Enjoy the ride right til the end." The remainder of the album ebbs and flows with the traditional Bluegrass sound (sans the pedal steel and percussion on their previous offering), relating stories of love, life and observations along the way. Offering songs from tender ballads (Joe Diffie's heartfelt "If You Want Me To") and delightful toe tappers ("Sweet Little Mountain Girl") to songs that highlight their immaculate harmonies (Alan O'Bryant's "Old Friend of Mine" and "Warm Wind") and even an original instrumental (the smoothly cascading "Autumn Glen"), all before closing with Bill Monroe's "Highway of Sorrow."

and then there's this... is crisp and clear, an album with a familiar feel that is expertly executed with consumate musicianship and flawless vocals. Put it on your "must" list for the new year.