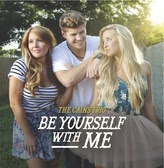 Hailing from Alabama,
The Cains Trio,
siblings Taylor, Madison and brother Logan, have released their new single
"Be Yourself With Me"
from their upcoming debut album due to be released October 7th.
"Be Yourself With Me" is a refreshing tune that is instantly likable, in terms of both the melody and the lyrics. The calming cadence of the melody is complemented by soothing, caring vocals that deliver a comforting message: be yourself. With all of the rules we have to follow in society, the emotions we may have to hide, and frequently having to keep our guard up, it is reassuring to know that there will always be that one person, with whom we can "breath a sigh of relief" because they will accept and love us as we are.
"Oh and let me be the one you can open up to
'Cause I would love to be the one you run to
When life isn't fair
Oh you can wear your heart out on your sleeve
Be yourself with me"
"Be Yourself With Me" is a nice initial offering from the Trio that makes one look forward to hearing more.
The single is currently available at iTunes.