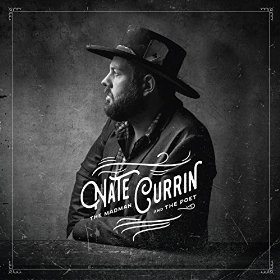 Singer-songwriter
Nate Currin's
follow up to his
You and I Are Ghosts
album,
The Madman and The Poet,
is an emotionally-charged twelve track collection replete with meaningful, captivating stories with depth and soul. A concept album divided into two halves, Currin stocks the first half
(The Madman)
with songs that are melodically and thematically dark while the acoustic, string-filled (violin, mandolin) second half
(The Poet)
focuses on lasting love, light, and hope.
The first six songs have the listener journey through Georgia, Los Angeles, Birmingham and more, telling of broken hearts, internal struggles and soul searching. Currin's vocals are soulful with a mixture of sorrow and anger permeating the tracks. Opening the album is the gritty, electric guitar laden "Another Love Song" on which he sings
"I grew up hating others til I met Jesus in a Georgia town"
while "City of Angels" has a roots-rock 90's vibe providing the backdrop for a female searching for something other than broken dreams and a broken heart. A mid-tempo ballad to a love who left him shattered, "Birmingham" is melodically and lyrically gutting.
"I'm lost with you gone, I drive these highways just to be alone…and these days that we plan it's the deeper things it takes to be a man…. You drive on back to Tennessee to live your life and forget me, to swim this ocean out to sea, a shell of who I used to be."

Southern rock with a noir vibe pulses on "Midnight Train" as he searched for the one who got away while "Ballad of A Horse Thief" paints a cinematic western tale of vengeance.
The Madman
concludes with the deeply intense, emotional and religiously charged "Sinner or Saint" where the internal questioning and struggle as to who one is lies forefront.
"Am I a sinner or am I a saint 'cause I feel like a misfit on my better days…. from the earthly things that eat my soul….am I the fire or am I the smoke…. I cross my fingers behind my back hope my God will take up the slack."
The album takes an acoustic turn beginning with "A Madman or A Poet" a sparse, delicate and achingly beautifully song on which Currin practically whispers
"so run away with me my love."
That's followed by the stunning "She Reminds Me" which tightens your heart in the best way possible, the hopeful "We All Need To Love Sometimes" and the affecting "Ship With No Sea." The album closes with "Let Grace Fall Down On Me" a prayer-like duet that is so powerful it might leave you an emotional wreck.
The Madman and The Poet
is incredibly human, haunting and intensely moving. And easily one of my favorite albums of the year so far.