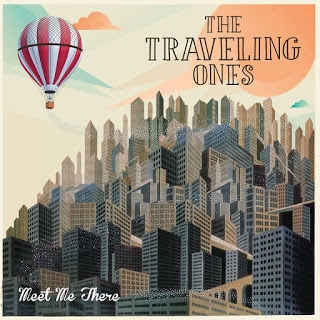 Led by Justin Ahmanson and Emily Villareal, the Austin-based band
The Traveling Ones
(which also includes Reed Jones on bass and Greg Henry on drums) is set to share their new album,
Meet Me There
on February 3rd. The all original project features Villareal and Ahmanson sharing vocals on the nine-song collection that features a mellow, blues accented feel on songs about dreams, life and love.
The album begins with the gentle and affecting "Wildfire Heart" which tells of a powerful, encompassing love before segueing into the keys accented, passionate "Yours Tonight" (where the duo's harmonies shine), and the lively, harmonica-laden "You Only Have to Break My Heart."
Meet Me There
flows beautifully from the soulful and hopeful "Red Lights" to the sincere "Baby When It Rains" and the sentimental "Upper Circle." The album is rounded out by the heavenly "Here In The Light," and standout track "I'm A Woman" where a love is revisited, but may not last
"If you don't want me release my hand….If you can't keep me well it's a Goddamn shame"
before closing with the incredibly stirring "Ride With Me" - which will leave you with "all the feels," as the saying goes.
The soothing, subtle melodies, earnest lyrics, and tender harmonies on
Meet Me There
glide along peacefully, yet never fail to make an emotional impact and connect with the listener. One of the early surprises of 2017, don't neglect to visit The Traveling Ones on
Meet Me There.