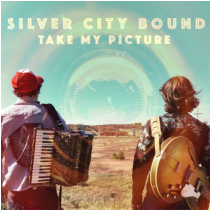 Already having won Best Americana album in 2015 from the Independent Music Awards for their previous album,
Diner in the Sky
, NYC's Silver City Bound return March 4th with a brand new EP,
Take My Picture.Take My Picture
showcases the quartet's - Sam Reider (accordion and vocals), Justin Poindexter (guitar and vocals), Noah Garabedian (bass), and Will Clark (drums) - diverse influences as they smoothly blend folk, country, zydeco, blues and more on a five-song collection that includes four originals and a righteous rendition of "Do Right Woman, Do Right Man."
Opening with an influx of horns, "Take My Picture" is a rootsy rocker featuring lush melodies, smooth vocals and a foot stomping, hand clap filled bridge that you'll find irresistible. "Take It Slow" is a bit of a bluesy jam, "Peacocking", about strutting your stuff and getting your groove on with the aim to impress, will light a fire under your feet while the dynamic "I Wanna Get Drunk", an anthem focusing on rediscovering life's simple pleasures, rounds out the project.
Take My Picture
is a downright fun listen, putting a contemporary spin on roots music with songs (highlighted by the oft-forgotten accordion) that have heart and heft.
Take My Picture
can be pre-ordered via Silver City Bound's
website
. The group will be celebrating the release of their EP at Barbes in Brooklyn the same day as the release.