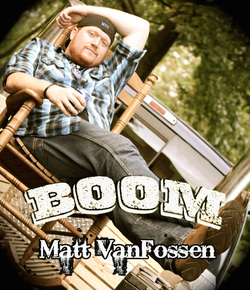 During his short career,
Matt VanFossen
has shared the stage with national recording artists including David Nail, Craig Campbell, Brooks & Dunn, and more. In 2013, he was asked to become one of the main stage artists at the Ohio-based 'Jamboree in the Hills' festival. For the past two years, he has opened up for the likes of Neal McCoy, Aaron Tippin, and The Oak Ridge Boys.
With the release of his new EP,
BOOM
, Matt VanFossen should prepare to take his career to exciting new levels. The EP is a collection of five songs, including the hard rocking title track (and current single), which has already become a fan favorite. The rest of the EP showcases Matt's diversity from the driving "Close If It Ain't" to the mid tempo "She's Just Like That," which describes the intensity of love and on which his warm, enveloping vocals really shine.
A standout track is "Get To You," a beautiful piano based ballad about how he would relive a painful relationship over again so long as it would bring him to his new love.
"I don't know how, but I know when I started living when you walked in/I felt something I wasn't sure of until you showed me your love/I'd do anything I'd have to do/I'd even relive all the hell I went through/I'd get hurt again to feel your love come true/I'd go back to her just to get to you."

My personal favorite, and radio ready single, "Time Ain't What It Used To Be" reflects on one's carefree younger days and the passage of time.
"Don't it seem like the clock ticks faster/Don't it feel like a moment don't last/All that time on our hands gone as quick as your fingers can snap/There was a time when the world spun around us/And we had forever to chase our dreams/Oh but time ain't what it used to be.
"
Matt VanFossen's EP has something for everyone. Definitely give it a listen.
The EP is available at all digital outlets and is distributed by TuneCore.