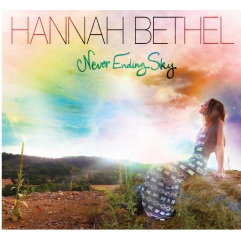 There have been quite a few records released lately that have been solid listens from start to finish. One album that can be added to that list is Hannah Bethel's
Never Ending Sky
. The Michigan native, and Nashville resident's, fourth independently released album arrived in October of 2014.
Never Ending Sky
incorporates lap steel, ganjo and piano, as well as electric guitar, into songs with character. Its eight well-crafted songs were all co-written by Bethel, who at a young age has a hand for classic storytelling; weaving detailed scenes into her songs that come to life as you listen.
The first track, and current single, "You Wanna Be My Man," has her airy vocals and ganjo merging into an up-tempo chorus about being head over heels in love. Personal favorite, "Frigerator," revolves around something as simple as using that every day appliance to talk about a relationship on the decline.
"You shut me off like I'm a stranger/But what happened to the nights we didn't sleep/Cause I miss your hands on my waist/In the kitchen when we couldn't wait/But now the only thing turned on in this house is the frigerator."
"The Lie" begins like a ballad but then the tempo increases with extremely clever lyrics telling the story of being continually wronged by the one you love.
"In the end the shot that kills is not the crime, it's the lie."
The insanely catchy "Tumbleweed" speaks to the wandering spirit and being in a place where one will
"never have to wonder about the things we never tried."
"If You Felt Like I Did" is a too good for words duet with Brennin Hunt which tells the story of the end of a relationship from two points of view. While she questions "what the hell went wrong" he explains how he couldn't be with her for the rest of his life "if you felt like I did." Sad and lovely at the same time.
The twangy "Watching the Sky" finds her wondering if her love will ever return while the solemn "Come Back Down" deals with loving, and letting go of, someone with an addiction.
"What can I do to save you without killing me/Cause lately I'm tired of waiting alone on the ground…..I'm afraid we ain't gonna make it when you are high in the clouds."
The album closes with "The Way Back Home" on which her vocals, and the cadence of the song, bring to mind traveling or searching, whether it be away from or to something.
"I still look for what I couldn't see, I guess blindness runs in my family"
Hannah Bethel is a strong addition to country music and if this release is any indication, then the sky certainly could be never ending for her and her music.
Purchase Never Ending Sky here