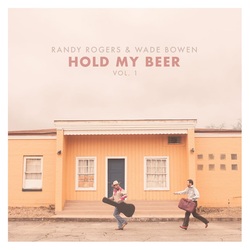 If you are looking for a true country record, then look no further because Randy Rogers and Wade Bowen have certainly delivered with their debut duet album
Hold My Beer Vol. 1
. Released on April 20th via their Lil' Buddy Toons label (with Lloyd Maines producing), the album contains ten tracks that have that classic country style both melodically and lyrically. Traditional instruments like pedal steel, dobro and fiddle are front and center instead of simply being relegated to the background. Bowen and Rogers' vocals are perfect; warm, friendly, honest and upbeat, yet weary and solemn when they need to be. As you listen throughout the entire record, the fun and friendship between them can be heard (and felt) loud and clear.
In addition to the much loved "Standards," there are six more originals as well as three covers on which the duo firmly put their stamp. They pay their respects to Joe Ely ["I Had My Hopes Up High"], and Willie and Merle ["It's Been A Great Afternoon" and "Reasons to Quit" which closes the album] with not only great songs, but songs that reflect their lives as troubadours.
The album kicks off with "In The Next Life" on which both mention career highlights (and struggles) coming to the conclusion that if they had to do it all over again, they would….and you 100% believe them. "
I'm not sure how we got here but somehow we stuck around/Some days I feel like we can fly and some days I think we'll drown."
Infused with humor, "Good Luck with That" finds them advising one another the things they shouldn't waste their time on, like telling off your boss or planning on spending a night out with the boys while the wife is at home. You'll find yourself humming along to the simply irresistible "Lady Bug" (gotta love the whistle at the end) perhaps wishing for some good luck of your own.
The album is certainly geared to be played in the honky tonks with people dancing, but there are somber tunes too, like "El Dorado," and the cry a tear in your beer (or vodka) ballad, "Til It Does" on which the pedal steel does all of the talking about the end of a relationship.
"These days I'm seeing things in ways/That only missing her reveals…..No you don't see the warning signs/Until there's tail lights in a cloud of dust."
Hold My Beer
is a record of love and friendship not just between two artists and buddies but with country music as well. Cheers to Vol. 1 and many more.
Purchase
Holy My Beer Vol. 1
here