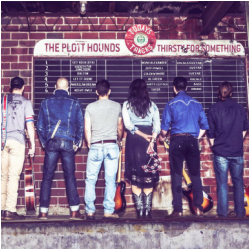 On June 14th,
The Plott Hounds
released of their sophomore album
Thirsty for Something.
Recorded in Minneapolis, the project contains six songs all of which were written by band members Noah Alexander (vocals, guitar), Colin Wymore (lead guitar and slide guitar) & Jeff Powell (lead guitar).
Out of the gate, the album comes on strong with the gritty "Get High" which was written about the band's adopted hometown Anoka, MN. Things continue with that classic southern rock sound The Plott Hounds (which also include Marty Lestock on bass and Tater on drums) have mastered on the title track and the raucous "Dalton." Things slow done on "Let It Shine" where Alexander's vocals (which oft recall Eddie Vedder) soften and Alexandra Green's harmonies add an ethereal feel. The album is rounded out by the swampy blues of "American Dream" and the extended jam of "Night Owls." And as the record comes to a close, you'll indeed be thirsty for something…. including another spin.