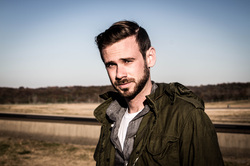 Singer songwriter
Cory Bishop
spent a semester in Seminary before dropping out for good to pursue music. He has said "I see it now as my job and my duty to craft songs that can help people catch a glimpse of hope; catch a glimpse of love and redemption." It is a job he most certainly does well on his self-titled EP released this past October. The five tracks, all written by Bishop, tackle soul searching, love, guilt, and redemption in story songs that will leave you
feeling.
The record leads off with "You Can't Take Me," a soul searching tune with an opening line that speaks a universal truth
"We're all a little bruised/We're all a little broken."
The mandolin infused "Carolina," whether a place, person, or both, is about moving on and travelling new roads, literally and figuratively. Standout track "Crown of Thorns" is so detailed, raw and honest it made me angry and sad. Hung-over and guilt ridden he tells a one night stand
"When we wake I'm gonna take back everything I say/But you'll never get back what you're letting me steal away/It's far more real than it seems/Although I'll shake it off just like a dream."
After that song emotionally drains you, "Wherever You Are, Babe," will lift the spirits with its harmonica (for which I am a total sucker) and horns. A break up song that finds him looking forward with promise rather than lamenting what was lost.
"I've played your lover, but I won't play your fool."
The EP closes with "Honey I Ain't" a delightful, uplifting song about love, acceptance and promising to stay in a world where people leaving/giving up is the norm.
"We hung our love out on the clothes line/The world could end tonight and that's fine/There are no names left to be learned/No wages I've left to earn/Since I've met you no pages left to turn."
Well written lyrics and lovely melodies delivered by a voice truthful, grounded and warm, Bishop simply makes good music--and that is something to be appreciated.
To purchase the EP visit
here