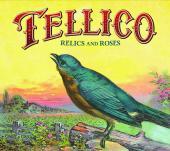 When one thinks of cities with well-known music scenes, Austin and Nashville typically come to mind, but Asheville, NC has a growing and thriving roots music scene. Hailing from that area is
Tellico,
a band of four who release their Kickstarter funded, debut album
Relics and Roses
on June 2nd. The album features the singing and songwriting of Anya Hinkle (guitar, fiddle) and Stig Stiglets (bass), with Aaron Ballance on dobro and pedal and lap steel and Jed Willis on mandolin and clawhammer banjo. Jon Stickley, who produced the album, also makes guest appearances on both drums and guitar.
Tellico's bluegrass sound is organic and earthy, embodying a true "Appalachian" feel. Storytelling, while at the forefront of their music, is adequately supported by unique voices (Stig and Anya share lead vocals) that wrap you with a sense of intimacy and security as well as instrumentation that plays a key role in setting and expressing the atmosphere of the songs whether it is the pedal steel or fragile mandolin. All of the songs on
Relics and Roses
were written by Hinkle and Stiglets-except the closing medley, a bluegrassified version of Neil Young and Crazy Horse's "White Line-River of Pride"-and deal with themes of life, love, family, and tragedy.
Opening the record is "Backstep Blues" a song about a man pulling away from his wife, hence leaving her with a sadness. It's a melody that instantly makes your ears take notice and stay attentive for the remainder of the record. That is followed by the vivid, detailed, dark tragedy at sea, "Calamity," which was sparked by Hurricane Katrina and the 2011 Japanese tsunami. "Can't Go Home Again," inspired by the Thomas Wolfe book of the same name, reminds that sometimes home, while a lovely idea, might not be so lovely once you get there. "I Want To Know" has a gentle cadence and lovely harmonies while the simple, beautiful "Forsaken Winds" makes you feel like she could be singing a poem. Everything isn't all seriousness though, the tone is lightened with the spirited "Hawkeye Pierce and Honeycutt Blues" and "Lean Into It" in which he tells his cheating love
"you used to bake me cakes and apple pie, but now you feed me leftovers, tell me your dirty damn lies."
Personal favorite "Morning Haze" and "Mexico 1995," a coming of age tale, round out the record.
Relics and Roses
is a record that you be will be drawn to not to simply listen, but to
actively
listen. While timeless and authentic are words you hear describing music quite often, here they both ring true.