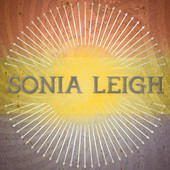 In June, Sonia Leigh released her amazing EP,
Counting Skeletons,
but she returns this week with brand new music, a song she wrote entitled, "Put It In Your Pocket."
If you have listened to
Counting Skeletons,
your first thought might be, "this is really different for Sonia Leigh," (and you're right), but after Sonia sings the first few words, you'll realize it is an insanely catchy, exuberant song that has "breakout" written all over it. Mixing modern elements with twang, "Put It In Your Pocket" is a perfect summer tune, one that finds Sonia's unique gravelly vocals expressing the joys of "living in the moment" and being happy. You will be singing along in no time.
"Kickin' out summer jams
Gettin' turned up
Sittin' on a tan
Gonna let the speakers blow
Put it in your pocket
Big blue sky, golden sun shinin' down
heavenly light
Hey can I get it to go
Put it in your pocket"
"Put It In Your Pocket" can be heard on Sirius XM's The Highway as a Highway Find. Do yourself a HUGE favor, listen to the song, purchase it and request it! Help make this the song that puts Sonia Leigh on everyone's radar!
You can purchase the single
here.
4.5 Stars