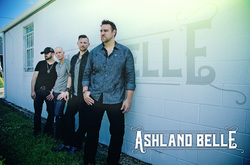 Hailing from Buffalo NY,
Ashland Belle
- Evan Blankenship, John Rosini, Rob Ferenc - released their new self-titled EP on October 30th. The Zac Maloy produced project contains five tracks; three outside cuts from such notables as Jimmy Yeary, Jim Beavers and Scott Stevens and two songs which were written by the band alongside Maloy ("Mine" and "Girl Behind The Bar"). Mixing country and with a dose of rock, the band's songs, brought to life by Blankenship's robust vocals, can be "turn 'em up and sing along" tunes or serious, thoughtful ones.
Opener "Fastest Car" is a country rocker about a free spirited female who longs to leave the town she calls home. "Way Back" finds him lamenting
"everything that's no good I can't quit,"
being unable to find his way and wondering if it's too late. Starting off with the act of contrition, stand out "Whiskey Prayers" finds a man struggling with alcohol asking
"Can you put a word into the man upstairs because I don't think he answers whiskey prayers."
Closing out the EP is "Girl Behind The Bar" an up-tempo, fun tune about being in love with the gal who mixes the drinks. Give it a listen.