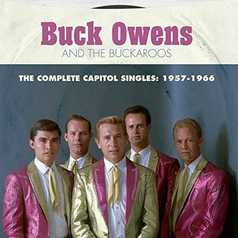 Earlier this month, Omnivore Recordings released two collections: Buck Owens and the Buckaroos'
The Complete Capitol Singles: 1957-1966
and Buckaroos' bandleader
Don Rich's
Guitar Pickin' Man.
Taken from the original mono single reels,
The Complete Capitol Singles: 1957-1966
brings all 56 sides from those years including 13 #1 hits, in their original and chronological form in this double disc set. Such delights as "Act Naturally," "I've Got A Tiger By the Tail," and "King of Fools" evoke a nostalgia and whimsy while also reminding (or introducing) the listener what a true talent Owens was. The album also features liner notes from Buck's autobiography as well as an introduction by Dwight Yoakam.
Meanwhile, Owens bandleader Rich shines on his own on
Guitar Pickin' Man
which features eighteen tracks including the
previously unissued Hee Haw version of the title track which was recorded in 1973 .
Guitar Pickin' Man
, too,
features tender liner notes from Don's sons
Vance
and
Vic Ulrich
as well as photos from their personal family collection.
There's really nothing to "pick on" with these recordings, they're a pleasure to listen to whether you're hearing them again or for the first time. Purchase the albums
HERE.