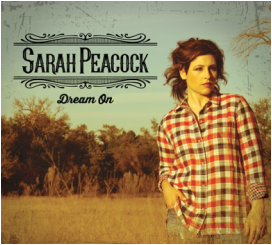 Singer-songwriter
Sarah Peacock
returns with her new album
Dream On
on May 10th. The all acoustic set, recorded at Eddie's Attic and the Bugle Boy, showcases Sarah's rich and powerful vocals [reminding one at times of Brandy Clark] paired with only her acoustic guitar for an incredibly intimate listen.
The ten song set kicks off with "Haystack" a ready for the weekend roots rocker telling of that one place you can go and just be accepted as you are. That's followed by "Without Me" which mixes the pain and anger of possibly being cheated on, "Tornado In A Trailer Park" about that one person who "bulldozed every dream" and the uplifting "Make A Little Room." Peacock offers a positive look at letting go on the ballad "Until Goodbye" while in the plucky "High School" she talks of that one person who can turn you to butter when they look at you, and in the soaring "All I Know" she wonders if her heart can open to find love again.
Dream On
is rounded out by the personal and affecting anti-bullying song, "The Cook Kids" which reminds that you never know what people are going through.
"When you get to the source of the pain there ain't no such things as the cool kids."

Dream On
consists of what life is made of: enjoyment, struggle, love, anger and sorrow in beautifully told stories that touch the heart and mind....and even encourage you to dream on too.