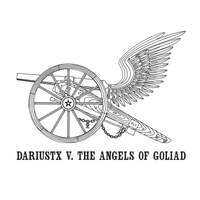 Released on December 11th, Darius Holbert's solo side project
DARIUSTX V. ANGELS OF GOLIAD
is a personal, and entirely original album filled with unexpected, yet always welcome turns. Holbert, who is an acclaimed composer for television and film, has worked with numerous artists including Wu-Tang Clan and Bobby Brown. You won't, however, find those styles represented here; Holbert leans heavy on his Texas and Louisiana roots…and they hold him up nicely. The seventeen tracks, all self-penned, deal with life, imperfections, redemption, and relationships. Melodically diverse (Holbert mines blues, country and more), the songs are written with a creative pen. One feels the songs via melody (told via fiddle, piano, and pedal steel), yet experiences them more deeply by
actively
listening to the sometimes abstract, yet impactful and honest lyrics.
The album opens with the frenzied "In The Shadow of The Death Bird" and continues with the solemn, lament filled and lovely, "The Dirge"
("I'm a bundle of scars and badly healed breaks")
and the slightly ominous "Dark Blues" which ponders
"Where do we go when we die?"
While Holbert sings lead, he is accompanied throughout by Nicole Britton and Caroline Wilson, whose angelic voices flawlessly capture and convey so much on songs like the dreamlike "Back Of Beyond," the romantic "Wildfire Waltz," the tenderly sad ("Walk These Floors") and the Tejano-flavored "El Dream Cancion." Things are spiced up with the throwback feel of (a la Holly Golightly) of "A Good Horse" which pairs nicely with "Dancing Shoes," both pondering love with, a favorite word of mine, a dirt bag. There are also story songs telling of a special family place ("Grandmother Erline's Kitchen"), one far away ("Paris") and some close to home ("West TX Moon").
Rounding out the collection are "Those Wildest Minutes With You" and "Goodnight Buckaroo." The rootsy former, which opens with
"Armadillo on the highway tied to a Mylar balloon"
reminisces of a former love, while the latter perfectly (and serenely) closes the album, with the sense that all of the relationships' struggles have since settled, finding peace and love.
Open your ears and give it a listen.