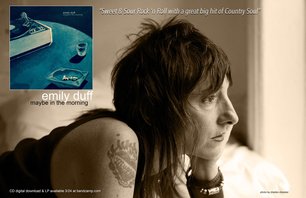 NYC's
Emily Duff
returns with her latest full-length
Maybe in The Morning
on March 24th. The twelve track collection kicks into high gear with the soulfully funky (and uniquely titled) opening track, "Hypmotizing Chickenz" before continuing with a rootsy request for kindness in "Please Don't Do Me Dirty" and the scorching title track. Whether singing about finally deciding to leave (the sassy and infectious "Bomp Bomp"), the dissolution of a marriage ("Diamonds"), or offering sage advice and praise ("Listen 2 Mama"), Duff's vocals convey a thoughtfulness alongside a grit signaling a life lived and experienced.
Lush harmonies and organ accentuate the intense emotion on "Don't" while a danceable melody counters the serious situation in
"Daddy's Drunk Again"
and a rollicking set of keys provides the backdrop for a story about a changing town in "Every Time I Go To Harlem."
Maybe in the Morning
concludes with a spritely, old-timey piano on "Needledrop Blues" and the uplifting, spiritual "Somebody On Sunday."
Impactful story songs alongside memorable melodies that fuse country, soul, and rock and roll make
Maybe in the Morning
anything but a maybe. Purchase the album
HERE.