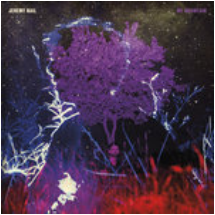 Singer-songwriter and guitarist
Jeremy Nail's
musical career was put on hold in 2013 when he was diagnosed with Sarcoma, which ultimately resulted in the amputation of his left leg. Nail deals with his journey in his new album,
My Mountain,
set for release May 3rd. Produced by Alejandro Escovedo, the eleven track collection details the emotions that accompanied Nail's journey through his cancer battle and emerging on the other side. Although the stories are personal, the sentiments pertaining to struggle and overcoming obstacles, are universal. The title track kicks things off with a rootsy percussive melody that gives the feeling of climbing up that hill and persevering even when it gets difficult.
"I might fall, but I'll get up again."
The emotional and honestly realistic "Down to the Ocean" follows, chronicling a re-birth of sorts, letting go of failure and making one stronger.
"The dreams I cling to just far enough out of reach/that's the beauty of a dream."
Throughout the album, Escovedo keeps the production on point, balancing the instrumentation so that it aids in conveying the stories and emotions without overpowering Nail's gentle, yet wise delivery. The glorious "Dreams" is infused with pop sensibilities encouraging one to avoid the negativity in your brain and
"listen to the song in your heart."
Lovely harmonies take the very tender "Survive" to an uplifting place.
"Every day I begin again, pray the Lord my soul to bear/Right or wrong gonna do what's best for you and no one else…..you'll always be a light.",
while the ruminative "The Great Mystery" contains philosophical underpinnings.
"Looking out miles for miles into beyond/Thanking God for what you got and the good fight you have fought."
The bluesy (and very "chill") "Only Love" centers on traveling through this life looking for love, "Brave" will simply put a swell in your chest - with the use of violin, it touches on many levels.
"…Because tomorrow we move on from yesterday/I know that through the fear I will remain brave"
with "New Frontier" containing one of the most impactful lines on the record
"I hope you come unraveled from self-doubt and scorn." My Mountain
concludes with the wrenching yet optimistic, "Tell Me What Else You Got" in which he encourages life to throw whatever it has at him, for he has nothing to fear as the gods are watching and the angels are walking beside him.
The beautifully told stories of struggle, perseverance, gratitude and hope on
My Mountain
leave you in a reflectful mindset; thinking not only about Nail's journey, but also reexamining your own.