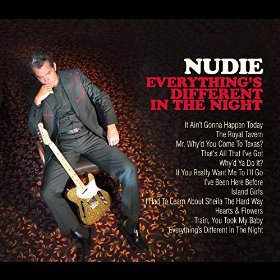 Charlottetown's
Nudie
captures classic country on his latest full-length,
Everything's Different in the Night.
Released on April 22nd, the album balances that definitive sound while simultaneously being incredibly fresh - infusing earnest songwriting and welcoming, emotive vocals in every track. The twelve song collection kicks off with self-awareness in the two-stepper "It Ain't Gonna Happen Today" which tells of an unwillingness to let those bad habits go.
"And when I find the strength to leave you that's when the good times will really start I'll finally know what it feels like for a man to walk around without a messed up heart."
Heartache and sorrow abound on the mid-tempo "I Had To Learn About Sheila The Hard Way" and the superb tear-in-your-beverage-of-choice waltz, "That's All I've Got." However, it's not all sadness - at least melodically. There's the charming duet with Sylvie Smith, "Mr. Why'd You Come To Texas," the Cash-recalling, horn-laden (with Ryan Weber on trumpet) "I've Been Here Before," the rockabilly "Hearts and Flowers" and the rockin' "Why'd Ya Do It," which while ready for dancin', are lyrically melancholy.
The album is rounded out with a perfect rendition of "If You Really Want Me To I'll Go" and a pair of songs that convey the difficulties of distance on relationships, "Island Girls" and "Train You Took My Baby", before closing out with "Everything's Different In The Night."
The songs of heartache, longing, and love on
Everything's Different In The Night
comprise a superb collection that is satisfying no matter when (day, night or those hours somewhere in between) you choose to listen to it.