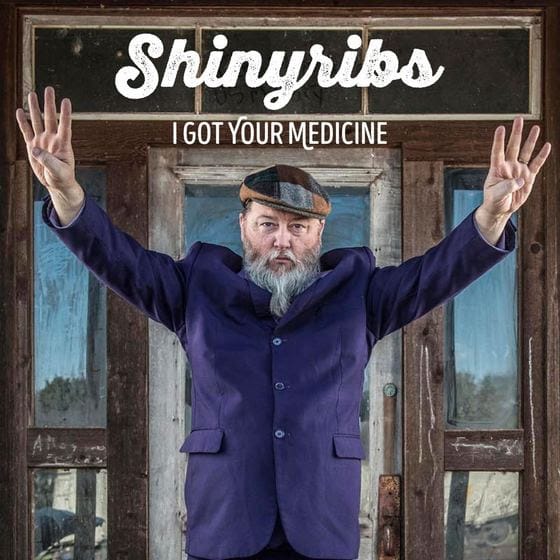 -Harriett
One of the most endearing aspects of good music can be found in its ability to reassure you that your experiences are shared, to lift you up and to make you feel happy; in short to heal the heart. That's just what you'll get when the Texas-based juggernaut known as Shinyribs delivers the cure for what ails you on February 24th with the release of
I Got Your Medicine
.
It's the fourth studio album for the band that started as a side project for The Gourds lead singer, lyricist and multi-instrumentalist Kevin Russell but quickly became a full time entity all its own. The sound is a blend of funk, blues, jazz and old school 60's R & B (with a dash of gospel for good measure) which makes it impossible to listen and remain seated. It requires the active participation of dancing and singing along like no one's watching.
The R & B is strong and mighty in the opening title track, "I Got Your Medicine" which embodies and projects the spirit of the album, and in the lovelorn "I Gave Up All I Had". The tale of a long, wild night of sorrow drowning gets the Dixie funk treatment in "Tub Gut Stomp & Red-Eyed Soul". The twang-edged soul in the duet "I Don't Give A Shit" leaves you laughing and reminiscing about those bad-for-each-other relationships that feel so right and manage to work due to the mutual dysfunction of the players. Redemption closes the album with the spirited, witty, jazzy gospel of "The Cross Is Boss".
Shinyribs is one of the most charismatic, captivating and entertaining bands I've ever seen and none of the magic of the live show is lost in the transition to the studio. Visit the website at
www.shinyribs.org
to pick up your copy of
I Got Your Medicine
and check the tour schedule. If the band is even remotely close to your area, don't miss out on going to a show that will leave you smiling long after the encore.