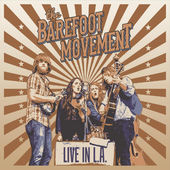 After bringing us three impressive studio albums, Nashville-based bluegrass group,
The Barefoot Movement
, returns with a live album. Set to release May 13th,
Live in L.A.
is steeped in the sounds of traditional bluegrass and folk music, while being infused with youthful exuberance. It's the perfect showcase for their musical acumen and love of performing.
The album covers a lot of ground, with eleven songs from their previous works and two new songs in "Pressing Onward" and "Anywhere I Plant My Feet," both of which take differing sonic and lyrical approaches to landing in a safe place. The former tackles the struggle by focusing on the will and drive to overcome setbacks. The latter speaks of the pull of new places and experiences while knowing the time for settling down will come and be welcome.
Foot stomping beats and rapid-fire lyrical delivery are represented on "Bowling Green" and "Rocky Island" where the singers' harmonies never falter and their playing is about as good as you'll hear. In addition, there are three stellar instrumentals in "Sheepherder," "High Road to Linton" and "Shuckin' the Brush." No words are needed with these songs. The melodies speak for themselves.
Bluegrass and folk connoisseurs, and novices as well, are sure to find a fresh take on the elements that drew them to the music in the first place. There's no auto-tune, and no production trickery….just the joy of a good story well told. With groups like The Barefoot Movement on the scene, the future of bluegrass is in safe hands.
Check out their story at
www.thebarefootmovementofficial.com
.
Live in L.A.
will be available on iTunes and other digital outlets on May 13th.
Review by Harriett. Find her on Twitter