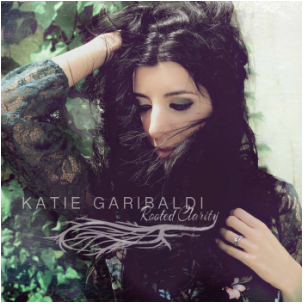 Based in San Francisco,
Katie Garibaldi
is a singer-songwriter and guitarist who tours nationally and is known for her engaging live shows and personal connection to her listeners through her music. With eight albums released to date, Garibaldi's newest, Rooted Clarity showcases her distinctive sound which has been, quite truthfully, described as "ethereal Americana." Grounded by her folk and roots background, Rooted Clarity takes those roots and grows, branching with elegant arrangements and Garibaldi's pristine vocals, into a recording that ascends to crystal clear heights.
The opening track, "Delightful," is a fitting description of the entire five song collection. Garibaldi's soprano, surrounded by beautifully composed choral arrangements, effortlessly soars in a song of hope: "The more I care what people think the more I am diminishing/But we could be, we could be, we could be….delightful." Positivity abounds on the string driven, impactful and encouraging "I Am," and continues on "In My Wildest Dreams" which assures that love will prevail even amid turmoil. The EP is rounded out with "On My Own," which if you are at a certain place in life, will hit you (mega) hard. "I've becoming who I've been wanting to be and dare the cliché my whole life's in front of me…It's so hard to say goodbye when all your memories sit and watch you leave" and "Bird In A Cage." On both, Garibaldi's light as a feather vocals exude a strength that makes you want to believe in yourself and pursue your dreams and most importantly, gives you the courage, and clarity, to be yourself, trust yourself and allow yourself to fly.